Heal Tissue with the
ACTIVet PRO

Family of Lasers
Targeted, highly-customized protocols optimized to heal tissue
Narrowly target damaged tissue with Super Pulsed technology designed to jump-start damaged cells. Use on wounds for added infection control benefits from blue light.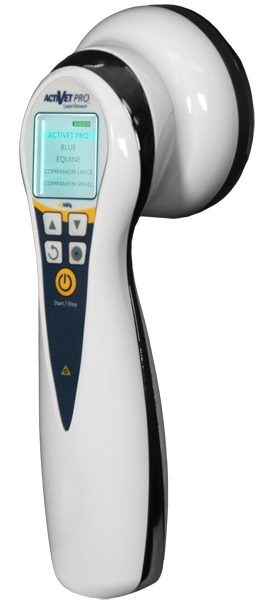 Use the ACTIVet PRO for laser-administered acupuncture and targeted tissue healing in small areas.
Includes blue light for infection control
Includes a set of 4 LaserPuncture Trigger Point Probes
Wavelengths: 905nm, 860nm, 660nm, 465nm
Peak Power: 50 Watts
Modes: CW, Super Pulsed
Weight: 250 G
Battery-Operated
Cordless Handheld Device
Use the ACTIVet PRO LaserShower for larger areas of tissue disruption. The ACTIVet PRO LaserShower Emitter enables the treatment of larger areas of interest.
Includes blue light for infection control
30cm² surface area coverage
Wavelengths: 905nm, 850nm, 630nm, 470nm
Peak Power: 200 Watts
Modes: CW, Super Pulsed
Weight: 250 G
Battery-Operated
Cordless Handheld Device